Antique carpets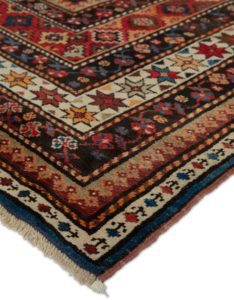 Antique and semi-antique carpets with high quality are considered as a valuable art piece. These kind of carpets have the value of an antique item suitable for museums. More of the semi-antique carpets have over 40-45 years and those higher than 80 years are considered as antique carpets. Besides the age of the carpet, quality and manufacturing process are important factors that increase the price of the carpet.
A Persian antique carpet that is well kept over the years is an art piece that every year its value is increasing. If the carpet is woven with high quality materials in an elegant pattern and colors, it attracts also modern carpet lovers for an investment. The situation of antique carpets are different. Some of them are fragile and it is better to keep them on the wall, while others can have many rusty parts but durable enough to be used on the floor.
The factors that make an antique carpet unique are based on the use of wool with particular value and the vegetable and natural dyes which are completely handmade. The difference in the shades of color during manual process gives a depth to the pattern of these carpets. Despite today, the process of changing raw wool to the threads suitable for weaving is semi-handmade. Antique carpets are also distinguished by another very important factor. Because the whole process was handcrafted, there are minor errors that occurred during the creation of these specimens, precisely these errors of a manual process make the antique carpet become a unique piece of its kind, consequently increasing its antiquity value.
To recognize an antique carpet from a high quality one needs experience of those who are in the industry for many years. Factors for identifying an elegant antique carpet are the colors used for dyeing wool, the quality of wool, and the number of knots in each square inch. Antique carpets are usually woven with wool on wool or wool on cotton. Until the early 1900s, silk was used scarcely in knotting carpets. The main material used in both the warp and weft was wool, unlike today that carpets are knotted both completely in silk and in wool on cotton.
Between the different carpet origins, many are famous for the antique carpets. The Caucassus carpets and Persian carpets such as Gashgai, Kashan, Herati, Kazak, Malayer, Sarugh ferahan, Seneh, Shirvan, Qum, Bakhtiari, and Tabriz have the highest quality between antique carpets. Due to their quality and age, they have different values which shows the elegance of these carpets. The design of these antique carpets attracts those who know about the value of handmade carpets and buying these carpets is an investment that cannot go wrong.